Takeaways from the Buck Institute of Education's latest Google Hangout on "Reflection in Gold Standard PBL."
Friendship bracelet bazaars and lemonade stands both teach kids how to successfully run their own companies.
How to answer that question in 2 to 3 sentences.
The research into possible diagnoses, further tests, and treatment plans begin.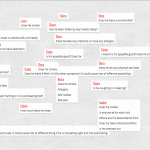 The first couple PBL projects I did, I skipped right over the scaffolding section of the BIE planning form.