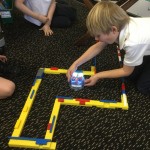 See the complex algorithms that first graders wrote for their Bots.
Technology integration is not about the number of apps you have but how you use them to showcase your learning.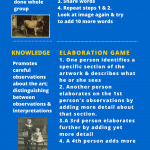 Artful Thinking, by Project Zero out of Harvard, teaches us how to reflect on the many forms of art in a deeper and richer manner.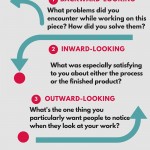 The shape of a poem plays an important role in expressing the topic or meaning of the poem.
Students use Explain Everything to create instructional videos.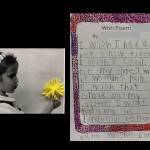 Sometimes you don't need a lot of technology. Just a little dab will do you.
Earlier this year, Lisa Johnson from EdTechTeacher and author of the TechChef blog, introduced our lower school teachers to the Shadow Puppet Edu free app. I've now had the opportunity to work with this app in three different grade levels.
Second grade recently finished a PBL, The Ups and Downs of Landforms. We decided to try the Padlet app for our KWL chart. At this point the kids had been put into different landform groups (mountains, fresh water, ect.). The teacher had already created a Padlet account (we found it easier to do this on a […]
This guest post from EdTechTeacher iPad Summit Presenter, Debbie Carona (@DebbieCarona), first appeared on Daily Genius. Though more than two years into my school's implementation of project-based learning, yesterday, I found myself excited all over again. I was helping a second grade teacher enhance her landforms PBL by using Padlet as part of the KWL process […]