I'm currently reading, Reinventing Project-Based Learning: Your Field Guide to Real-World Projects in the Digital Age (2nd Edition)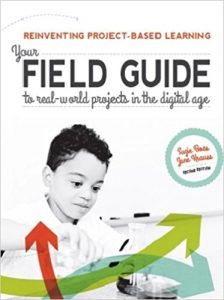 by Suzi Boss and Jane Krauss.  So far, the book is filled with informative PBL blogs and online resources, such as Edutopia and Buck Institute for Education (BIE). Another excellent resource are the schools in the High Tech High (HTH) network. These sources are helpful in connecting you to a project-based learning community. They are also an excellent source of project plans and ideas.
As I move into the second chapter of Reinventing Project-Based Learning, I'm finding more opportunities to fine tune the practices that I try to implement in all my PBLs. I'm especially intrigued with the idea of the authors' formal protocol of "project-tuning." This protocol can take place during any stage of the PBL, but I think I'd prefer the "project-tuning" at the PBL's conclusion. A group of teachers, including newbies and veteran PBL teachers, as well as teachers from other grade levels and subject areas meet to give the teacher feedback on their completed PBL. Many times when teachers stand up in faculty meetings to share an activity, they feel like they are trying to convince the other teachers that they did something really outstanding. It can also feel like they are trying to defend what they do. But the purpose of the "project-tuning" protocol is to "understand what's working, what could be better, what they wonder about, what they would like to be tweaked as they continue with the project." (Stacey Caillier, director of the teacher's leadership master's program at HTH Graduate School of Education)
According to authors Boss and Krauss, you can expect a typical project-tuning session is about a half hour to an hour in length. Each session includes a facilitator to oversee the session, the presenter or teacher who just completed a PBL, and the participants who listen and give feedback. Here's a sample timeframe:
Introduction (5 min) – Facilitator reviews process with participants
Presentation (5 min) – Teacher shares the PBL plans (including driving question & entry event), goals, sample work done by students, assessments, & reflection process. Participants are silent & ask no questions.
Clarifying questions (5 min) – Participants may ask questions in order to clarify something the presenter said (fact-based questions only)
Examination of student work samples (8 min) – Presenter is silent. Participants examine student work with the driving question in mind. Participants take notes but work silently.
Pause to reflect on warm & cool feedback (2-3 min) – Participants take a moment to reflect on the warm (how the work aligns with the project goals) and the cool (where the project might be off track) comments for the next section. Presenter & participants are silent.
Warm and cool feedback (8 min) – Participants share their insights with the other participants while the presenter is silent but taking notes. Warm feedback might begin with, "I like . . . " and cool feedback might start with "I wonder …?"
Reflection (7 min) – Presenter addresses the feedback. It's important to note that this is not a time to defend your work, but to reflect on the feedback provided.
Debrief (5 min) – Facilitator reviews and brings the project-tuning time to a conclusion
(for more details see chapter 2, Spotlight: Project-Tuning Protocol section)
As the PBL coach for our independent school, I would enjoy the opportunity to act as the facilitator for a project-tuning session. I can easily see the benefits that a teacher/presenter could gain while listening to  fellow PBL teachers support your efforts by giving you honest feedback. The teachers and I spend time reflecting at the end of each PBL but it usually has more to do with project timing and resources. The project-tuning requires a mindset of active listening that would only come through practical experience. The giving of warm and cool feedback would require the participants to give deliberate and thoughtful comments. The project-tuning protocol adds a new layer to the execution of project-based learning.
Post Script – The day after writing my blog piece I read an excellent article by Nick Weiss, "How BIE's PBL 101 Workshop Changed My Perspective & Teaching Practice." In his article he mentions the project- tuning protocol. His article led me to the BIE video "Tuning Protocol Overview." Check out both!