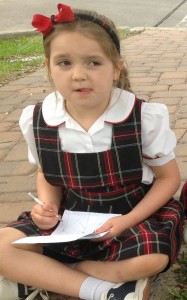 Yesterday the people at the Buck Institute for Education (BIE) hosted a Google Hangout titled, "Reflection in Gold Standard PBL." The webinar was recorded and will be available on the resource page of the BIE website.
Hangout Takeaways
A common problem is to distinguish between critique/revision and reflection. Critique/revision is about the product. Reflection is about the process of learning.
Especially for the younger kids, reflection is about the purpose behind the PBL (it wasn't just for fun)
As you're training the kids to reflect, be very specific about what you want them to reflect on. Choose one aspect of the PBL, such as how the group was able to collaborate or identifying your most successful method of research to focus on.
Reflection occurs throughout the PBL, not just at the end
Challenges of Reflection
It has to be manageable to be effective. If you ask the kids to write a couple paragraphs worth of  thoughts each time you reflect, you're going to drown in reflections.
Reflection must be put in your lesson plans. Time must be set aside for reflection or it's just too easy to skip. If you allow the kids to work until the bell rings, how will you fit it in? Plan to give students the last or first 5 minutes of class to reflect enough to give you a sense of where your students are.
Kids have to know that their reflections/thoughts/opinions matter. If your students wrote that they didn't feel like they had enough time to practice their oral presentations, discuss this with them. Let them know that due to their valid thoughts, that next time you'll give them more opportunities to practice.
Let students know that reflection is important for adults, too. Don't always use student reflection time to set up for your next class. Model reflection by doing reflections. Think about sharing some of your reflections with your class.
Forms of Reflection
Exit Slips – a single thought written or posted. The Padlet app works well for quick responses to a reflection prompt. This example is from the "What's Up With This Guy?" PBL. (see PBL in the Elementary Grades p. 180)
Post-it-Boards – anonymous reflections written on post-it-notes
Hard/Easy lines – young child points to a place on line between these 2 points that represents their feelings Easy Hard Reflection Template
Colored Dots/Sentence Strips – Label ends of sentence strip (Need Help/Got It), each kid puts a colored dot between the words, the dot's placement represents their understanding of the concept. Next day use different color of dots. Each day the dots should be moving towards "Got It."
Audio Recording – great for younger kids. We love using the Puppet Edu app to capture student's oral reflections.
Group/Class Discussions – The following example from the BizWorld PBL, was done with 4th graders.  BizWorld Reflections
Further Information
John Larmer, the editor in chief of Buck Institute for Education, referred to one of my favorite quotes.
"We do not learn from experience… we learn from reflecting on experience." – John Dewey
When we reflect on our learning experiences, we give our minds time to solidify what we've learned. We're also providing an opportunity to connect a specific learning experience to a seemingly different learning experience. This allows us to see how we learn and how what we learn connects us to others.