Bee Bots are rechargeable and programmable robots that are made sturdy enough for young children to handle. The newer Blue Bots, like the Bee Bots, can be programmed using its six directional arrows but the Blue Bots can also be programmed with the free Blue Bot app. We purchased a Blue Bot for each first grade classroom. Each class named their Bot – Beego, Arrow, and Zoomer. We have spent most of the year learning three different terms and their functions: program, algorithm, and de-bug.
We began by using the directional arrows (buttons) to make our Bot go where we wanted it to go. We used grids and maps to help us create a path for our Bot. We had to learn to look in the same direction as the Bot in order to correctly program him to go either left or right. That is probably the hardest skill they've encountered, but it's so cool to see their minds working as they solve the problem of which way to go. The Bots allow us to reinforce the skills of left and right while applying this knowledge in a new situation. They have buy-in because they want their Bot to go where they want it to go.
In one Bot game, there are pictures of a different town buildings in each graph space. They kids draw a card, read the clue to decided where their Bot needs to go, program the Bot and hit GO. If you end up at the library instead of the diner, no worries, you just de-bug your Bot and try again. The mat games can be based around any subject area. Use the book, Rosie's Walk to create a sequence Bot
activity. The bot must travel, in the correct order, to the picture cards that show where Rosie went on her walk. To reinforce addition & subtraction, use number cards scattered under the mat. Students draw cards that have math problems on them, solve it, and program the Bot to go to that numeral.
Once a week, during math center time, I would work with small groups of first graders on how to program their bot and how to write the algorithm that went with that program. It was interesting to see how some children could look at the mat the same way their Bot was, others were better at look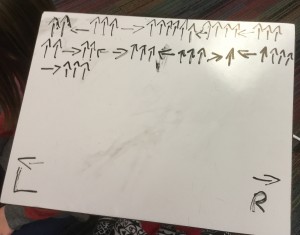 ing at the mat and being able to verbalize the algorithm without moving their Bot, and still others were stronger at reading and writing the algorithm. They were given plenty of opportunities to build on each of these skills. When the kids have written a lengthy algorithm, they love to share it and take pictures of it.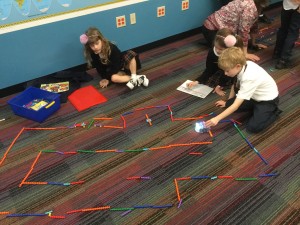 On the Bot Challenge Day, first graders worked in small groups to create a maze for their Bot to travel through. They measured, they planned, and they tested in order to created their maze. As they built, they wrote the algorithm that would be programmed into their Bot. This process provide opportunities for cooperative planning, effective communication, and problem-solving. We saved the last part of the hour so that the groups could show the other groups how their Bot traveled through their maze. It was a successful day for each first grader!