Archives by date
You are browsing the site archives by date.
"Students love praise, and it often transcends into feelings of self-worth, intelligence, and joy."- Avra Robinson
Technology integration is not about the number of apps you have but how you use them to showcase your learning.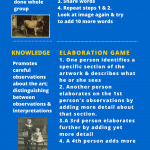 Artful Thinking, by Project Zero out of Harvard, teaches us how to reflect on the many forms of art in a deeper and richer manner.