Recently, I was reading an article by Jon Mueller entitled, The Authentic Assessment Toolbox. His article covers many aspects of student portfolios but I was focused on the "Reflection on Samples of Work" section. I happen to agree with Mr. Mueller's opening statement that "Many educators who work with portfolios  consider the reflection component the most critical element of a good portfolio." As I read through his sample reflection prompts and his evaluation & growth questions, I began to wonder about a possible reflection activity.
I have found that even older lower school students have a hard time with summations. For this reflection piece we are going to ask the students to summarize their work and list the specific skills they used to complete part of the project. Begin by giving the kids ample time to reflect back over the project and list each of the steps they took – did they choose the topic, create a mind map or any type of visual aid, make an outline, create a prototype, doing any research, interview an expert, write a rough draft, prepare a presentation, etc. Now that they have a list, have them write the skill or knowledge they improved upon next to each step they wrote. So next to "created a mind map of insect research" they might write, "organization, comprehension, and/or citations."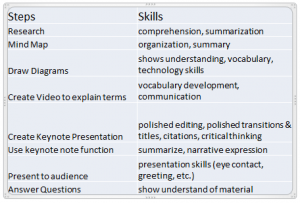 Often as teachers, when we look back over all the skills that we covered in one unit or PBL project, we're shocked at what our kids were able to accomplish. We want the kids to feel those same feelings of accomplishment. It really doesn't matter if they mastered each of the skills but that they were given the opportunity to build upon them. An interesting twist would be to allow the class to verbally list the skills that were used for each phase of the project. Another idea would be to consolidate the student lists into one class list and add a 3rd column that allows the kids to rate their level of mastery on these skills.
According to Jon Mueller, "The reflection phase holds the most promise for promoting student growth." It certainly has the potential of showing the child all the reasons he has for feeling a sense of accomplishment and pride.